Newborn to 18 months

18 months to 3.5 years

3 years to 5 years

4.5 to 7 years





Village: The Rhythm of my Day

 

Age Range: Newborn to 1½ years.

Class Structure: 9-weeks.

Class Length: 45 minutes.





The Rhythm of My Day is a delightful unit that highlights the concept of a family's daily rituals and routines. Songs and activities from the unit are designed to help children and parents incorporate music into many of their regular routines. You too can bring home those same stress-free play and relaxation techniques from class, and incorporate them into your daily routines, such as: developing a safe and secure environment for a baby's growth in all domains; reinforcing family traditions and memories as well as cultural heritage and values; and providing a solid foundation to help assist a baby in adapting to and coping with change.



Home Materials: a CD with songs from class, Rhythm story book, Rhythm art banner, and an age appropriate instrument.
---
Our Time: Milk & Cookies

Age Range:  1½ to 3.5 years.

Class Structure:  18 weeks.

Class Length:  45 minutes

Imagine the aroma of baking cookies, the cosiness of the family kitchen, the chatter among sisters, brothers, grandmas, granddads, mum and dad, and the anticipation and excitement of having friends come to visit. These moments at home are times to be shared and treasured. These special moments are captured in Milk & Cookies, the third unit of Kindermusik Our Time. The central focus of Milk & Cookies is the toddler's need for security balanced with his need for independence. Milk & Cookies songs and activities promote interaction between parent and child where the parent gently guides their child's learning and the process of scaffolding takes place. Capturing the security, excitement and familiarity of "at home" moments is the ideal theme for empowering the parent to act as teacher through scaffolding. What better way for parents to lead their child than with familiar, everyday home activities such cooking in the kitchen, dusting and washing clothes?

Home Materials: 2 Music and Movement Books, a Home Activity Book, a double Home CD, A Special Child's Carry Bag, and a Stir Xylophone.
---
Imagine That: Hello Weather




Age Range:3 to 5 years.


Class Structure: each 18 weeks.


Class Length: 45 minutes.




This unit uses weather as the basis for fun activities while making children more aware of the powers and beauty of the nature around them. Children and their families will be encouraged to get outdoors and enjoy the world around them – simply being together in all types of weather! They'll create delightful home activity projects like making wind chimes, rain hats, sleigh bells and snow boots. Just as the first two units of Imagine That! feature pretend play concepts, so does Hello Weather, Let's play together. The beauty of imagination is that it allows children to cool off anytime by pretending to play in the snow during the middle of summer, by basking in the sunshine or flying a kite in a spring breeze while the snow flies outside – Imagine That!

Home Materials: A Hello Weather Play set, 2 Literature Books, a Pair of ankle bells, a Family Activity Book, a double Home CD, and a backpack (1st semester only).
---
Young Child

Age Range:5 to 7 years.

Class Structure: 18 weeks,


Class Length: 45 minutes.

Kindermusik Young Child is a unique opportunity to develop all aspects of the young budding musician.  This first semester explores many foundational elements eg. voice development, rhythm, notation, musical symbols and simple pre-keyboard skills.  Children explore and learn to play many instruments throughout the 2 year course including rhythm sticks, resonator bars, drums, glockenspiels, dulcimers, and recorders. They build critical vocal development skills through singing, games, listening and echoing activities. For your enthusiastic musician, Young Child provides a pressure-free developmentally appropriate transition, where children can musically succeed before taking on specific instrumental or vocal instruction. In small, movement-oriented classes, your child develops their greatest instrument - the voice - while they learn the symbols, vocabulary, and foundations of music making.

At Home Materials: Children's folder with stickers and Music At Home cards, Family Songbook, glockenspiel, CD of music from class, canvas bag and games bag.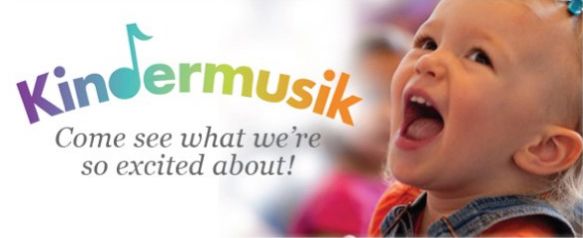 Kindermusik ~ "A good beginning never ends"